Cue that epic Latin song thingy. You know, the one that Michael Jackson used in his 'Brace Yourself' promo? … O FORTUNA!
Before the match, one would have sworn that these two are giant enemies because of PSG PR scheme. I mean …
Cringe.
I liked the A Different Story tag though.
And this was their starting XI:
Best thing was Cavani singing the Champions League theme and fixing his mascot's hair. Fatherly instincts much?
Anyways, I went with a 2-1 victory for PSG and selfishly put Cavani down for a brace but in the end, PSG could only draw Chelsea 1-1 as Mou's men came to Paris and did the predictable thing.
In the eleventh minute, Cavani and Matuidi had a go, but Courtois came up big with those superb saves. Ivanovic eventually opened things up in the 36th minute after some horror defending from the Parisians. But that lovely flick from Cahill was a thing of beauty and Ivan likes doing it big in big games.
Cavani had a few misses before leveling things up: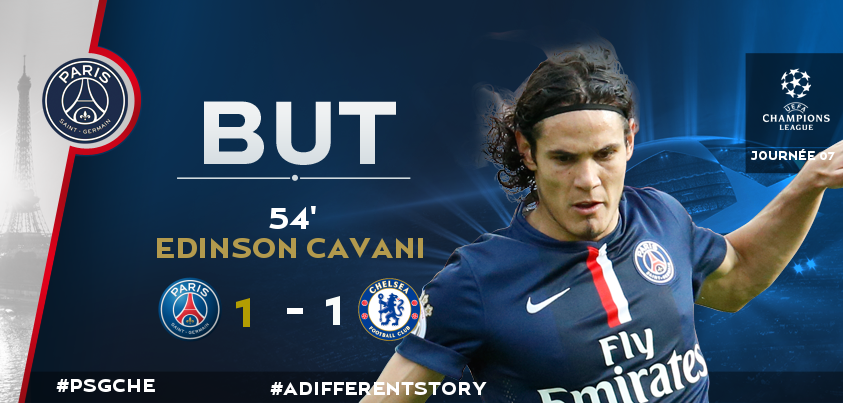 It was a wicked header from a Matuidi cross.
PSG turned the screw in the second half and could have won the match, but Courtois was there to deny them most of the time. Cavani tried an acrobatic thing that didn't work and for all you no-goods saying he can't score an overhead, then I suggest you head over to YouTube … although the goal was disallowed. As for Zlatan, he had a quiet evening, but he tried something in the additional two minutes.
If Cavani stays on at PSG, I think he might eventually eclipse Zlatan. Man of the Match was Matuidi for me.
STAT ATTACK! El Matador.
> Cavani has scored 6 goals in 7 CL games this season. Clinical.
With those six goals, El Matador is now the 3rd top scorer in the CL after Luiz Adriano (9) and Lionel Messi (8).
> Edinson Cavani has scored 15 UEFA Champions League goals in 23 games. The 7th fastest in history.
SCENES!!! 
Leaving you with the goal scorer 🙂