My Man of the Match is Rakitic: He had a goal, an assist and a through ball, making him involve in all 3 of our goals. But then, Suarez too has been involved in all 3 goals today with a sweet goal of his own, a fine assist and final pass. Okay, my men of the match then.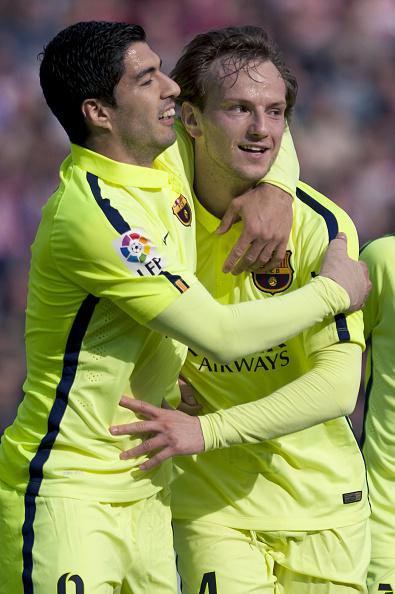 ___________
Final stats via fcbarcelona.com: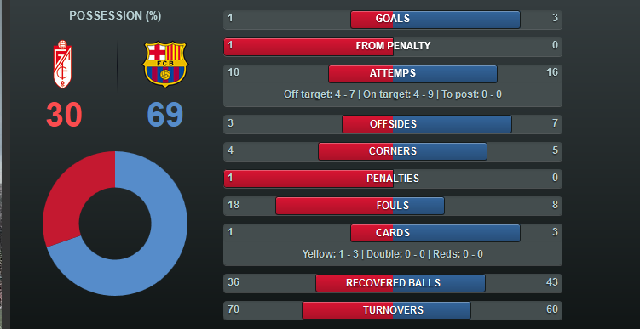 FT: Granada 1 (Rico) FC Barcelona 3 (Rakitic, Suarez, Messi) We claimed the 3 points, but Messi needs to get some rest and Neymar has been off form lately. He needs to get some rest too, but el clasico will be his. Great performances by Bravo, Suarez and Rakitic.
Two minutes additional stoppage time added
87′ CLOSE! LEO! Great save, Oier. 1-3
> Inside the final 5 minutes plus additional stoppage time.
79′ Suarez off for Pedro. I don't approve of this sub. Neymar should have been the one off, although I can of understand from Lucho's point of view: Neymar is already out of the next game, Saurez is on a yellow and he doesn't want to risk … oh jeepers, the commentator is saying the same thing.
75′ Nothing comes from the corner anyway. I think the last change should be Neymar for Pedro. 1-3
74′ Corner FCB … but first, adieu Mathieu, allôo Busquets
WATCH that Suarez-Leo goal here: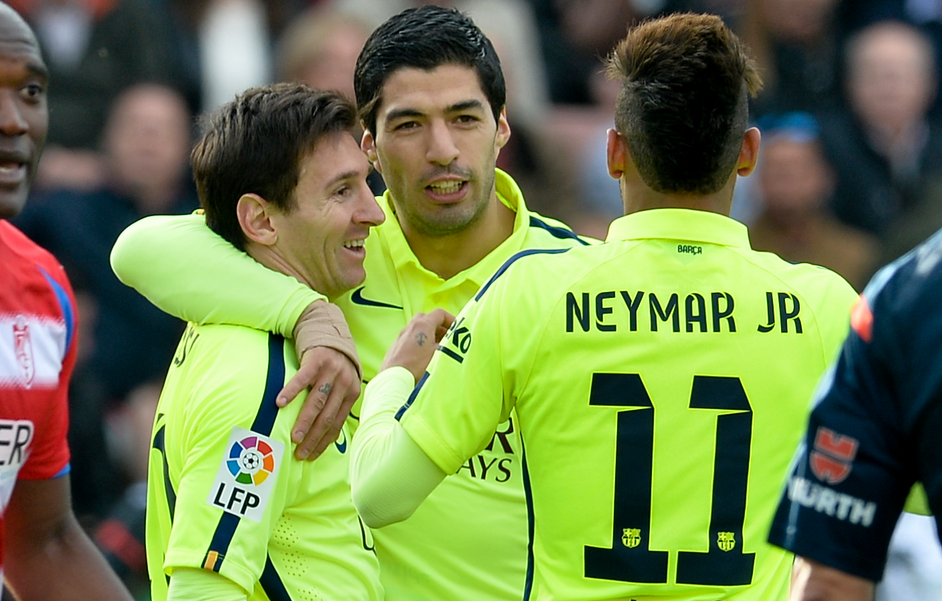 70′ GOOOOOAAAALLLL! UNIVERSE GREATEST 1-3 Well, I did say he would have scored when he got the captain armband, but it was very unselfish from Suarez, who could have finished that off himself, instead he pass to Leo, who tapped it in for the 3rd. This is what team play is about.
STAT ATTACK: Luis Suarez has now double digits for both goals (10) and assists (10) at Barcelona this season (via Mr Chip)
65′ Rafinha on for Xavi. Leo is not the captain. Maybe he'll score now. 😛
64′ FK Barςa. Xavi and Leo stands over it as Oier shouts at his wall. Leo puts it over. 1-2
60′ Okay, I guess I have to take back my Leo brace today.
58′ Mathieu booked
55′ Neymar booked. He will miss the next match against Rayo, but will return in time for El Clasico.
52′ And they pulled one back after Rico converts the penalty 1-2
51′ Penalty Granada. Thnx Bartra.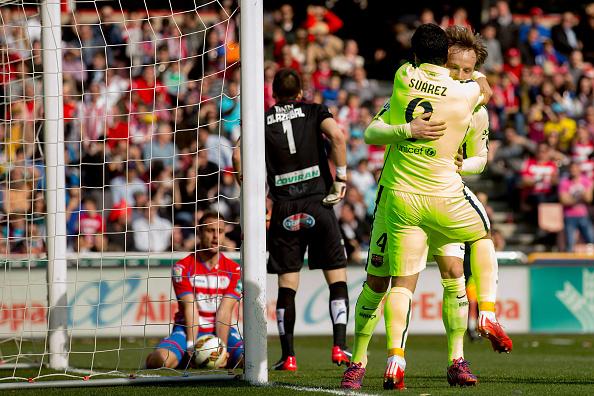 48′ GOAL! MR. SUAREZ! 0-2 Great ball from Raki!
> FC Barcelona gets the second half underway! VAMOS BARÇA!
> There's a guy in a Man City jacket looking on prior to second half ❤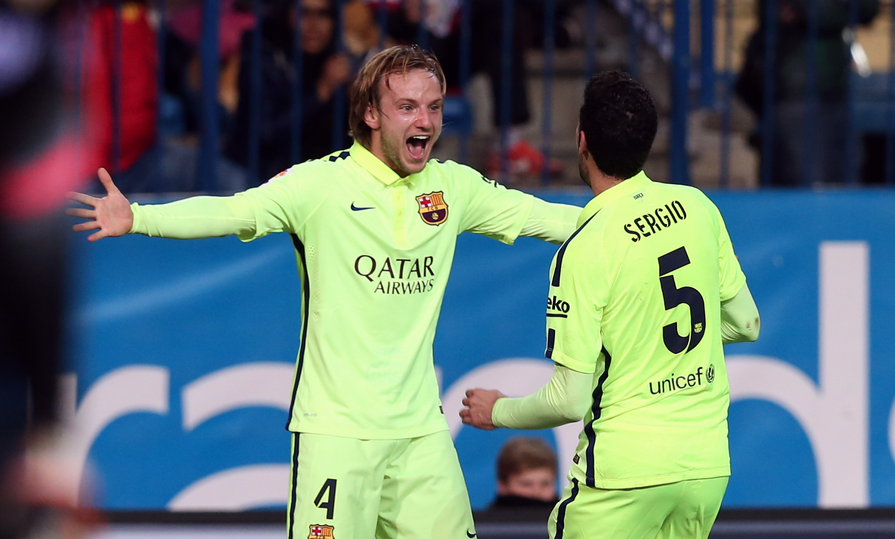 HT: Granada 0 FC Barcelona 1 (Rakitic) … Not the dream fireworks starting we would have liked to see, but there were sparks in between. Unclassic first half. Hope the next half would be better, because if the team keep playing like this, we're looking at 1-1 at the final whistle and a draw is unacceptable at this point.
45′ Nearly 0-2 from nothing, but Leo fumbles the ball
44′ Messi hits the post, but he's rightly called off side anyway.
42′ Corner eventually comes to nothing and although Barςa has the opener, they're still dilly-dallying all over the place. CHAOS I tell you! 0-1
41′ Marquez takes the shot, Bravo gets the touch (good save from the Chilean), corner home team.
39′ FK Granada. Mathieu and Enrique just smiles.
36′ OOOH MESSSI! Way way waaaayyyy off target!
25′ GOAL! PRINCE CHARMING! 0-1 Suarez shoots, the ball deflects off Cala, lands at the feet of Rakitic, who slammed it home! Wham, Bam, Thank You Ma'am! Prince Charming ran to the bench to celebrate with Ter Stegen:
https://pbs.twimg.com/tweet_video/B-8Q5SWU8AAMsLo.mp4
They've come really close.
24′ First corner for Granada … taken short, but this set piece also comes to nothing. 0-0
23′ Xavi's corner eventually comes to nothing. Still 0-0. GET IN THERE BARÇA!
22′ Xavi has a go, Oier puts it over the net. Corner.
18′ Granada offside. If I have to sum up the game in one word so far: Eh! FCB dislikes early kick-offs with a passion.
15′ Suarez goes into the book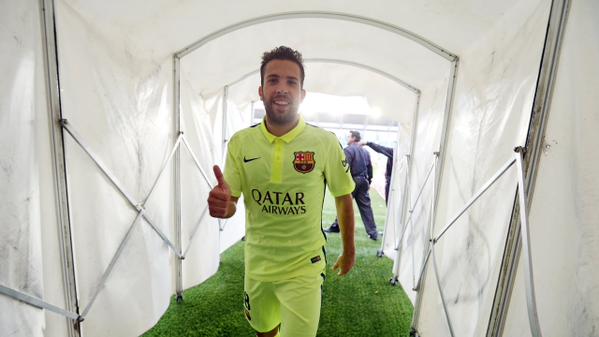 MILESTONE: Alba is playing his 100th game for FC Barcelona. Congrats on this achievement.
12′ FCB gets the first corner of the game which eventually comes to nothing in the end 0-0
9′ Rare and poor shot by Mascherano. Oier easily collects.
8′ Granada definitely settling on their end and looks likely to score any time soon. COME ON TEAM!
6′ FCB yet to settle into this game. I know it's still early, but I am hoping they settle this tide soon.
> *peep peep* Granada kicks us off!
> Oier! How I've missed you! Oier and the boys from FCB greets each other in the tunnel.
_________
Banter starts in 30 minutes.
_________
Take it away Messi fan girl: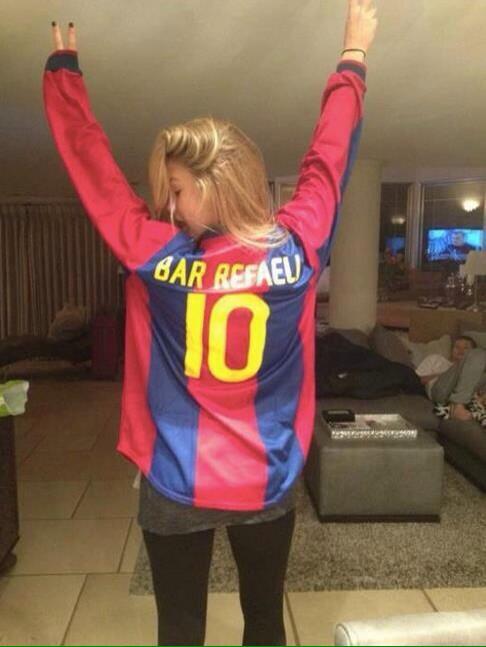 @BarRefaeli: "Leo is my champion. He has a special aura, and is the best player in the world."
__________
"May God bless us and protect us

" – Neymar (IG)
_________
LINE-UPs:
Granada:  Oier; Nyom, Cala, Babin, Foulquier; F.Rico, Iturra; Lass, Javi Márquez, Ibáñez; Córdoba.
FC Barcelona: Bravo – Alves Bartra Mathieu Alba – Rakitic Mascherano Xavi – Messi Suarez Neymar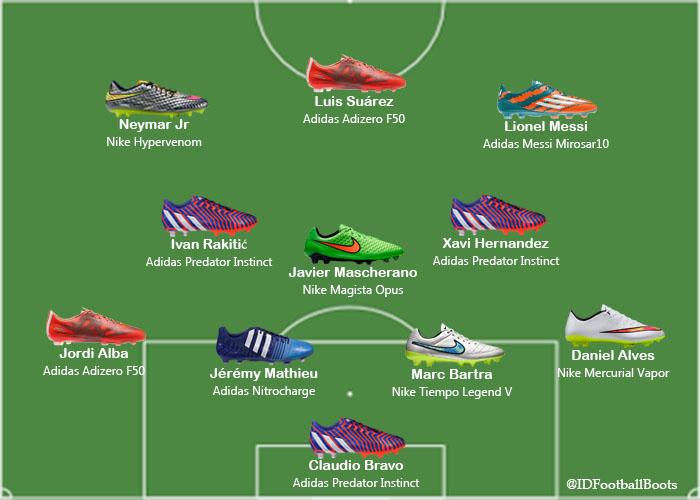 Neat boots!
_____
It's been a while since I've done a live thread! … Since September to be precise. Today, FCB takes on Granada and I hope they show no mercy. I am hoping that we claim all 3 points and Leo, I'm expecting a brace today, so don't let me down.