"I'm not blind, I know what we missed against Brazil. We will not get used to losing."
Don't lie to me, DD, me poor heart can't take it! Don't make promises that you can't keep.
After the not-so-friendly match against Brazil in which we lost 3-1, Deschamps made a statement regarding our absentees:
"I will not take refuge behind it. No, that would be an affront to the players that I put out."
It is utmost refreshing to see a coach not blaming a defeat on absent star players, and I agree with the statement because it is something I've been sticking by over the years. It doesn't matter the team a coach puts out there. Once there is motivation and the desire to do great/win, the team will end the game in a positive manner even in sweet defeat. Even if Lloris and Pogba was available for duty, don't for once doubt we wouldn't have lost.
We could/would have lost the same way.
After the game against Brazil, I said that DD should take some risks. Apparently he read my blog post on that. 😛
At the presser yesterday, he revealed that Ruffier will guard the goal and Varane will wear the captain armband. He also touched on our lovely Fekir:
"He was very much at ease against Brazil. He played only 10 minutes, but it was interesting. He needs some time. He feels good in this group, but we must not ask too much of him."
And the world's sexiest football player (aka Giroud):
"He is in a different category to Benzema. He doesn't lack anything in order to compete with Karim because they are different players. Giroud is self-assured."
Yes, that is too true and I hope DD actually shake things up later on as we take on Denmark. I expect Giroud to start and although we can't ask too much of Fekir as yet, I hope he starts or gets more than 10 minutes of playing time. That will boost his confidence and show that we need and count on him for Euro 2016. No pressure, Fekir. No pressure.
Oh, yes, touching on Fekir a little bit. Stade de France had the gall to whistle him on his debut night. I wonder if his star continues to rise and he shines for us, if those uncalled for whistles would stop? If he starts/plays this evening and he scores, I am certain those whistles would become whoop of happiness. Chill out impatient whiny French fans and give the boy a chance. Who knows? He just might be our saving grace.
Do you, Fekir. Do you. I'm right behind you. #TeamFekir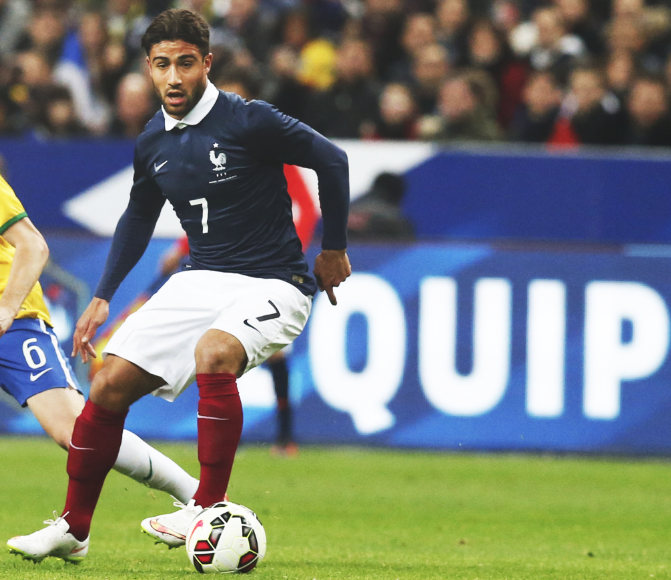 ALLEZ LES BLEUS!