STARTING XI: Ruffier, Tremoulinas, Koscielny, Varane, Jallet, Kondogbia, Payet, Schneiderlin, Griezmann, Lacazette, Giroud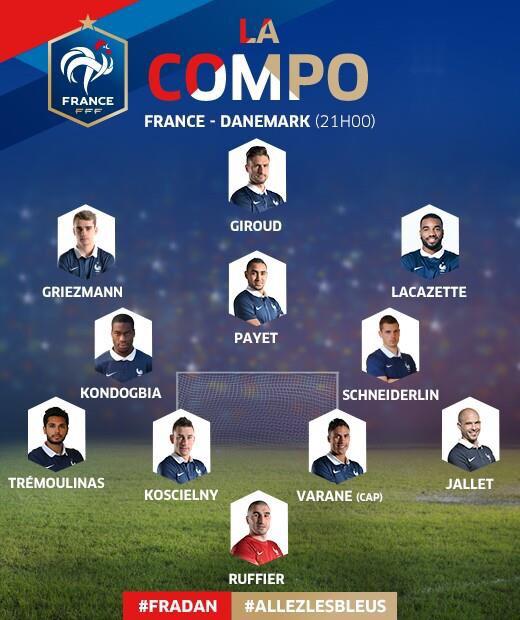 "It's Fekir's decision [to choose France]. Regarding whistles, when he starts to score it will not be a problem."
– Zidane
Prior to this match, France met Denmark 5 times and won every single home game against them.
France and Denmark had chances to open the match inside the opening 15 minutes, but France went ahead in the 14th minute when Lacazette pounced on a loose ball and buried it for his first Les Bleus goal. Payet was all over the pitch, shooting, passing and swinging in corners. Ruffier looked good in goal.
The next goal came in the 38th minute when Kondogbia goes on a great run, draws half of the Danish defence and releases Giroud, who found the back of the net with a brilliant goal. The French had a brilliant first half, it must be said. Their passing was crisp, the back line looked good and balls were recovered with prompt efficiency.
France was typical France in the second half after holding onto a first half lead. They struggled at times to hold onto the control they had in the first half. Deschamps made a double substitution in the 60th minute: Guilavogui replaced Kondogbia and Fekir came on for Griezmann. Matuidi replaced Lacazette 11 minutes later. Although Les Bleus hogged the possession, they couldn't seem to add another goal to their tally. Fekir was simply breathtakingly brilliant!
Zouma replaced Schneiderlin and Valbuena came on in place of Payet in the 82nd minute. Valbuena had a decent chance to score 2 minutes later after coming on but managed to miss the tempting target. Play stopped in the 89th minute when Jallet went down injured, He had to be taken off the field for medical treatment. Sagna replaced him then. Three additional minutes stoppage time was added, but the 2-0 was enough to secure victory for the French.
At least I was right about Fekir and Giroud teaming up. They combined pretty well. Payet had a good game and Lacazette deserved his goal. I am happy with what the team accomplished today, but we have to keep working hard. Experiment well done, Deschamps. I hope you find what you're looking for in our next match.
I leave you with our goal scorers: