"It's a victory that tastes of blessed glory."
Luis Enrique
Barcelona humiliated and destroyed Real Madrid on Saturday in their first El Clásico meeting of the season and it was breathtakingly beautiful!
Suárez scored the opener in the 11th minute after receiving a pass from Sergi Roberto. Before half time, Neymar added the second in the 39th minute via an Iniesta assist. Neymar returned the favor for Iniesta in the 53rd minute for the third and that man, Suárez again stepped up to score our 4th and final goal of the night in the 74th minute via a pass from Alba. Leo had a role to play in this goal. He fed Alba. It was great to have Leo back! He came on as a substitute in the second half replacing Rakitic, whom was also back from injury.
The El Clásico did not go without controversy though. On the night when Ramos and Carvajal should've seen red for their assaults on Barcelona, Isco was the one to be sent off in the 84th minute after a nasty challenge on Neymar. Cristiano started diving in the early stages. Although Luis and Neymar dominated, I have to hand the Man of the Clásico to Claudio Bravo. He was a brick wall in goal.
"I believe we tried to have the ball but their game is possession. They always had the ball. It's difficult to run without it, it tires you out. We tried to go on the attack but it wasn't possible."
Marcelo
Prior to the game, Madridistas expressed their delight with Benzema and Rodriguez in the starting eleven (It didn't help that the Madridistas were certified coaches thus putting Rafa under pressure) and poked fun at us because Leo started on the bench. Had they been watching our games without Leo, they would've realized that Luis and Neymar held down the fort well.
Barcelona became the first team to beat Madrid at the Bernabeu this season.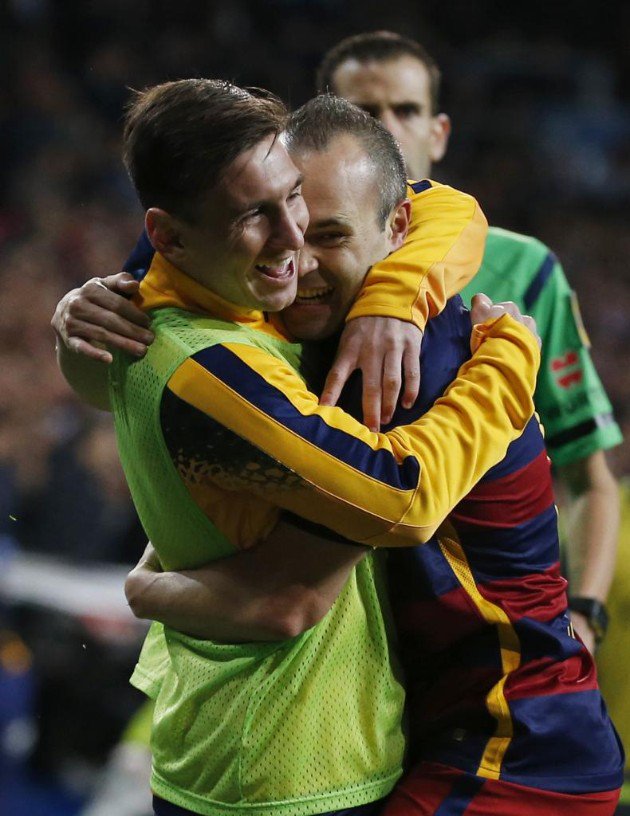 These are the nights we never forget. These are the nights that go down in beautiful history. Thank you, Barcelona for giving us another memorable night to remember.
VISCA BARÇA!!
Relive the beautiful moments here: