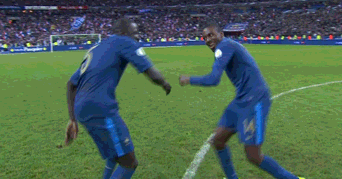 I must apologize for my lack of posts. At the moment, I am swamped with this and that, but have the time to banter over Tottenham's possibility of winning the PL. 😛
Anyway, I am currently writing a Les Bleus parody. It is still in the planning stages, but I've already written the Prologue and I'm halfway through the first chapter. The fiction centers around a crazy French coach who will lead his team to Euro 2016 glory no matter what it takes. I am hoping to start posting soon, but if I don't like the end results, I won't be posting after all.
If you're interested and will like to have a peek, go here:
We have a great team, a great coach in Didier Deschamps, an awesome captain in Hugo Lloris, and not to mention, football's sexiest…
I'm all pumped up for Euro 2016! ALLEZ LES BLEUS!