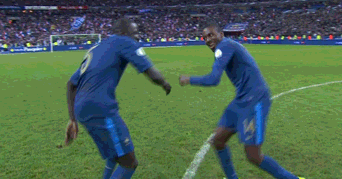 I can't believe I'm actually going to share my writing with the world! I'll explain everything in detail about this Les Bleus fic next week, but for now, I want to share what I've been working on. Marcus is blunt and nasty, so please, if you're offended I would not apologize. You've been warned.
I'm going to take it from Marcus's first conference as the head of Les Bleus:
Marcus savored the last pull of his cigarette causing Ray to fan his face as they head towards their first press conference as the new minders of Les Bleus. He put out the cigarette using the tip of his tongue and disposed of it in a bin just as they walked into the buzzing conference room. As soon as the identical duo sat down, the room became deadly quiet. Some of the new faces who never had the pleasure of seeing the twins this close before stared from one to the other.
"Are we going to get started, non?" Marcus held up his left wrist and tapped the titanium Cartier. "Time's just ticking by and we still have to prepare for the match."
"How would you deal with replacing a long time coach?"
Marcus looked at the journalist who asked the first question and shook his head. "Next question,"
"What are you doing to gain the players' trust?"
"I'm not here to babysit anyone to gain their trust. Next question."
A female journalist raised her hand and points at Ray. "Ray, are you and the team ready for the game tomorrow?"
Before Ray could respond, his twin interjected with, "Now that's how you ask a question relating to a game."
Over the few chuckles, Ray replied, "I actually just flew in, but the boys are ready. Obviously, it'll take time for them to adapt to the new coaching head, but they're ready."
The same journalist asked, "Do you anticipate it to be a close game?"
Marcus scowled. "Football is like they say, unpredictable. Close, far, it doesn't matter. The only thing that matters is the result when the final whistle goes."
"Now that you're the new coach of Les Bleus, do you think you'd ever recall Nasri?"
"He is not a favorite player of mine. As a matter of fact, he has never been a favorite player of mine." Marcus watched as shock and surprise littered some of the journalists' faces. Some even had the audacity to gasp. "He is not important. Yes, go on and can quote that. It's not a misquote."
Ray fondly shook his head at his brother as he reached for the glass of water. Marcus handled the media his way not caring what the world may think when they read his blunt and sometimes rude remarks.
When the journalists recovered from the shock, one asked, "Have you decided who your captain is?"
"I believe his name is Hugo Lloris."
At this mention, a round of applause broke out from the back of the room.
Marcus didn't even smile. "Alright, this interview is over." He stood in time with his twin. After they exited, the journalists couldn't find a juicier topic to talk about than Les Bleus' new crazy coach.