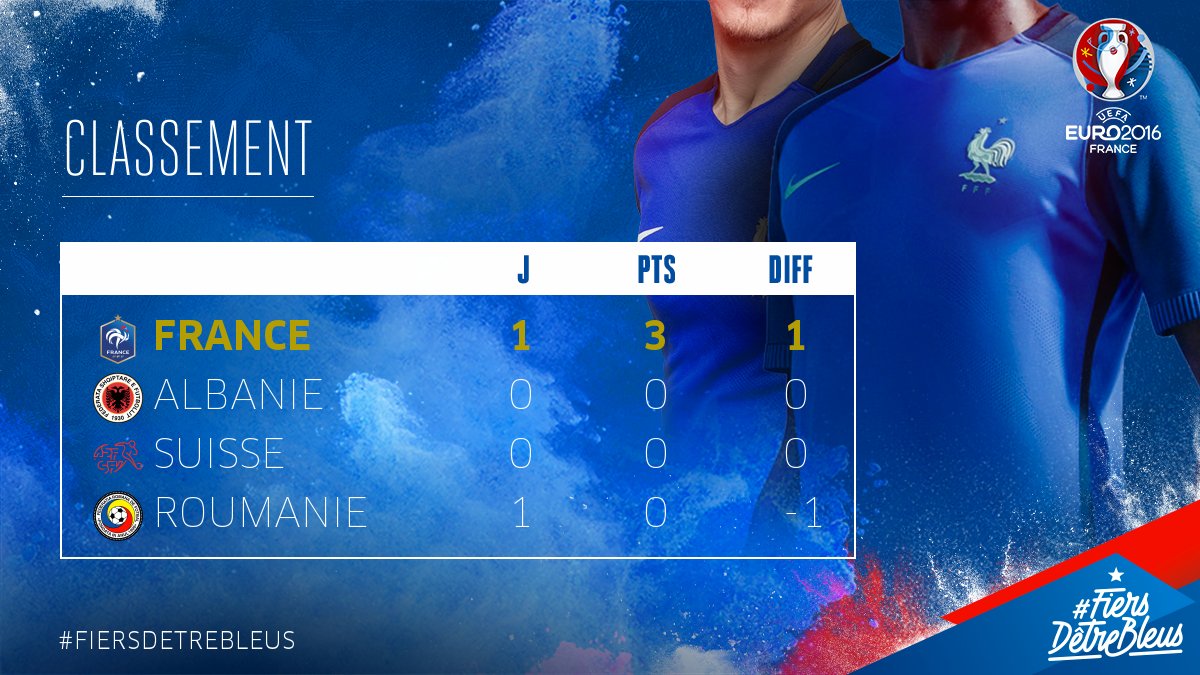 FT: The hosts grabs all 3 points all thanks to Giroud and Payet. 2-1 and although I am delighted, I'm kind of disappointed too. Payet is the Man of the Match. There is no doubt about this.
3 minutes are added, but I think Payet had already won the match for France.
91′ An emotional Payet makes way for Sissoko
89′ GOAL! UNPLAYABLE PAYET! His left-footed strike from the edge of the box puts France in the lead and in the driving seat! 2-1
81′ Popa off. Torje on (ROM). Still 1-1 at the Stade de France.Players on both sides look tired despite the fresh feet introduced.
78′ Yellow Popa (ROM)
76′ Pogba off. Martial on. (FRA)
72′ Stanciu off. Chipciu on (ROM)
68′ Yellow for Giroud
66′ Griezmann off. Kingsley on. (FRA)
65′ GOAL! Patrice Evra gives a penalty away. Stancu steps up and buried it for Romania to pull them back in the game. 1-1. 
61′ Andone off. Alibec on. (ROM)
57′ GOAL! Payet cuts onto his left foot and curls a teasing cross into the box. Giroud gets to the ball ahead of the goalkeeper and head that baby into the back of an empty net for the beautiful opener. 1-0 baby! And the first goal of Euro 2016.
56′ POGBA! 
47′ Chance Romania! In the end it goes wide and Lloris is not pleased with his defenders. Actually, it was Rami who was caught taking a little nap.
2nd half back underway at the Stade de France. Let's go team! Let's go!
HT: 0-0. I was not expecting this match to be easy for the French despite many people saying that it was going to be super easy. If France can break open and then break down Romania's defense, they'll get the desired result. Here's hoping the 2nd half will be better for the French. ALLEZ LES BLEUS!!
46′ Giroud's header can't quite find the back of the net. That's two god chances for Olivier thus far.
2 minutes added 
43′ FK France. Weakly delivered by Payet. 0-0
36′ Griezmann again at the near post! Les Bleus is so unlucky not to be ahead by 2-1 right now.
31′ Yellow Chiriches (ROM)
25′ Payet swings in the corner, but it was easy for the Romanian goalie to latch onto. Still 0-0 in this exciting opener.
14′ Another good chance for France, but Griezmann is unlucky to have better control of the ball. 
10′ Set piece for France. Payet delivers a great ball in, but Giroud's header goes just wide. Allez Giroud!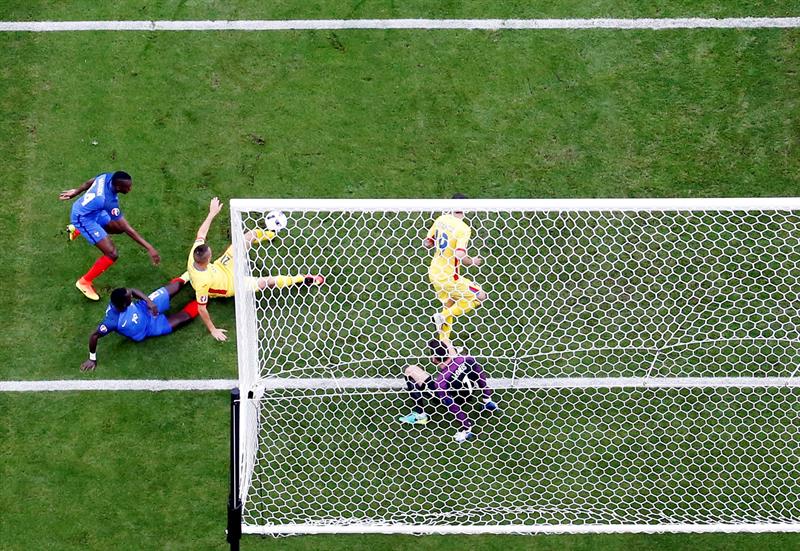 4′ The first shot of the game comes from Romania, but Hugo Lloris produces a wonderful save to deny them an early 1-0 lead. I think the French looks a little shaky at the back. 
KICK-OFF! WE'RE UNDERWAY AT THE STADE DE FRANCE!
_________
Votre force, notre passion!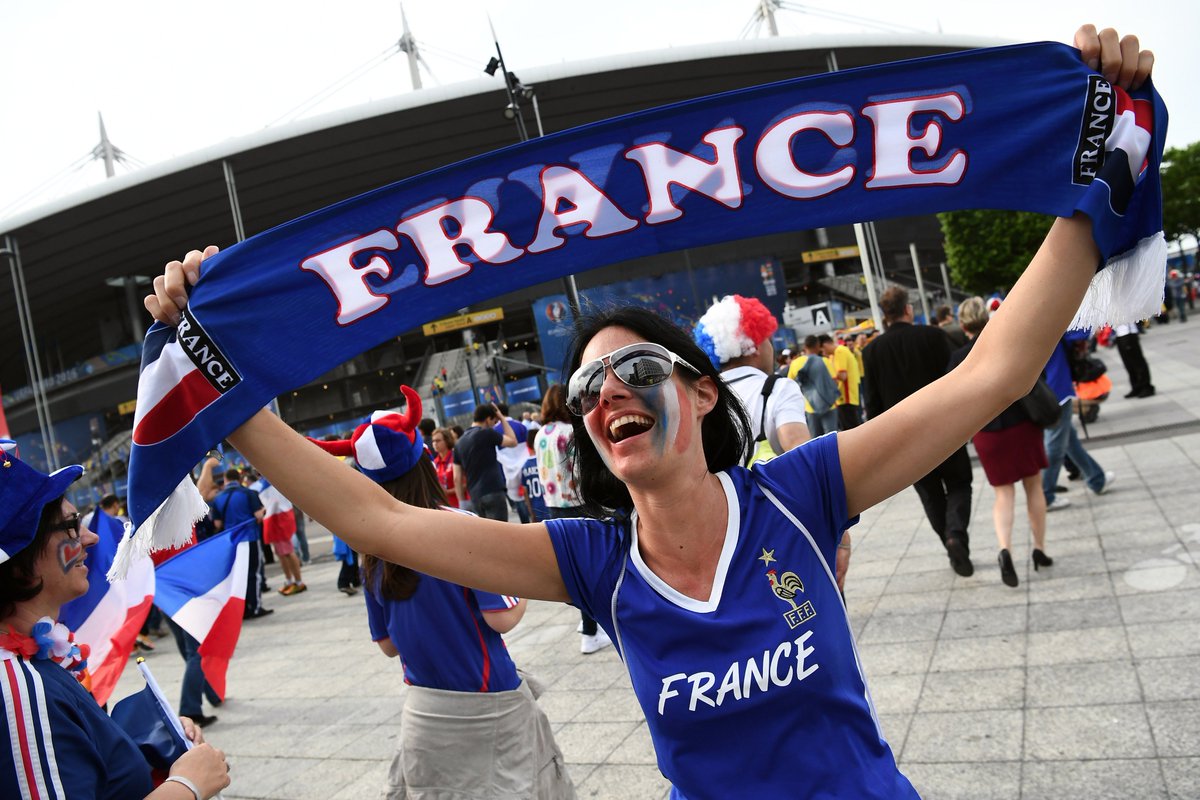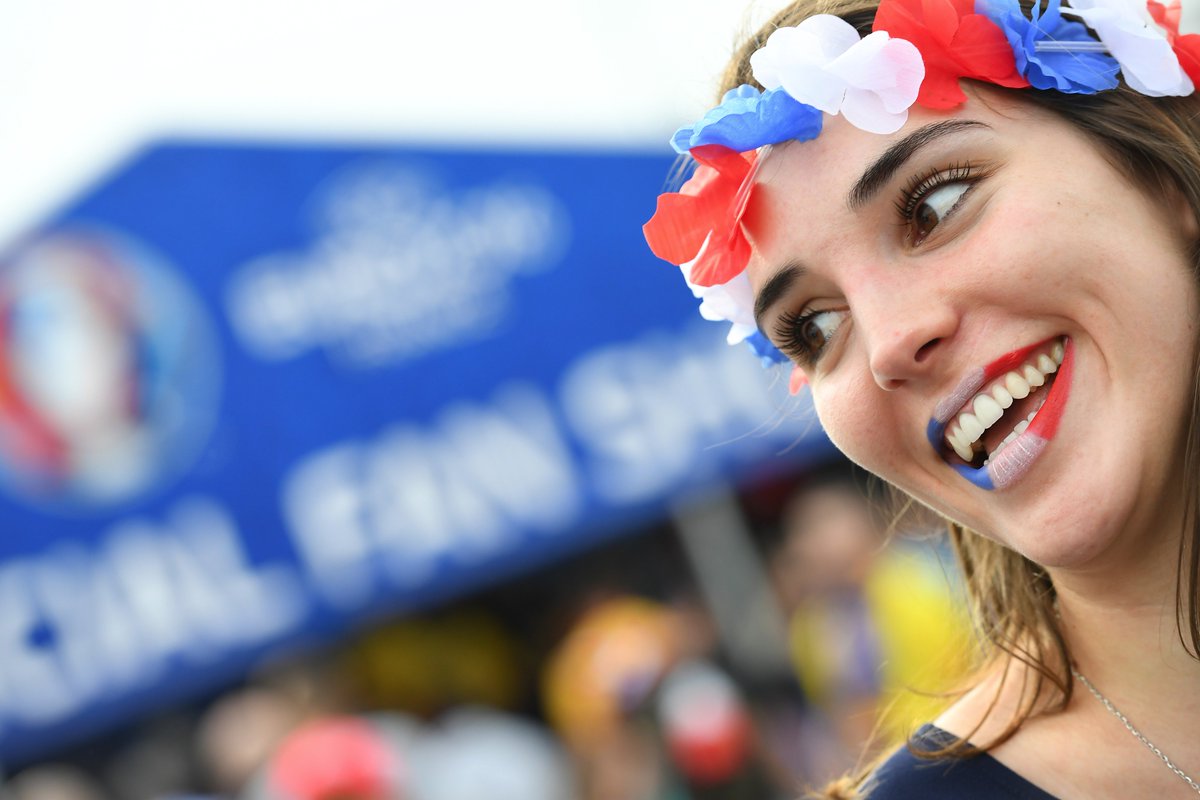 _________
STARTING XI: 
FRANCE:  Lloris – Sagna, Rami, Koscielny, Evra – Kanté, Pogba, Matuidi – Griezmann, Payet, Giroud.
ROMANIA:  Tătăruşanu – Săpunaru, Grigore, Chiricheş, Raţ – Hoban, Pintilii – Stanciu, Popa, Stancu – Andone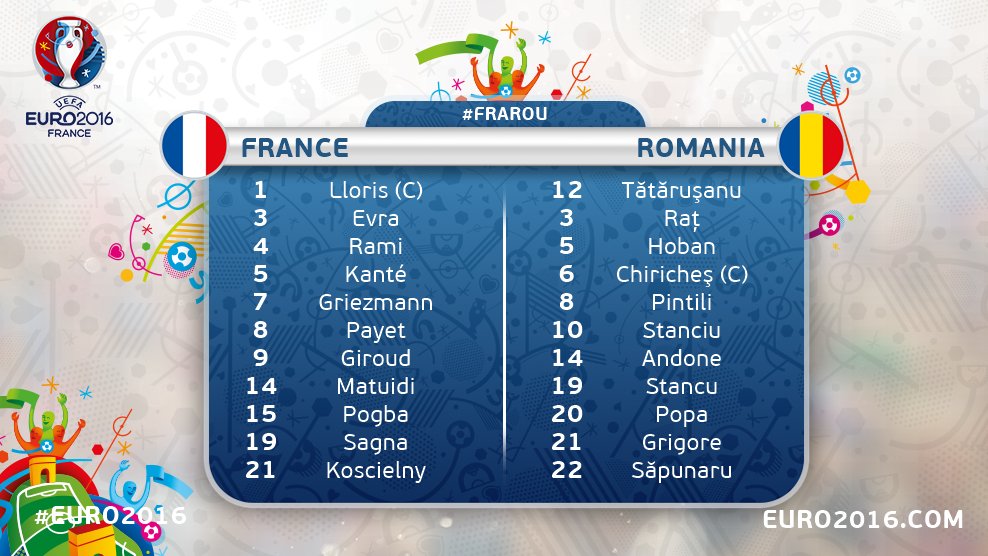 _________
The team is here!
__________
Mon cœur en bleu!!
__________
Welcome to Euro 2016 opener between France and Romania. I'll be lying if I say that I am not a little nervous to watch my team today, but I am also excited. We have 3 games to get it right, but I rather we get it right from the first game, so we need to go out there and win. I'm going for a 2-1 victory in favor of Les Bleus.