THE STARTING XI: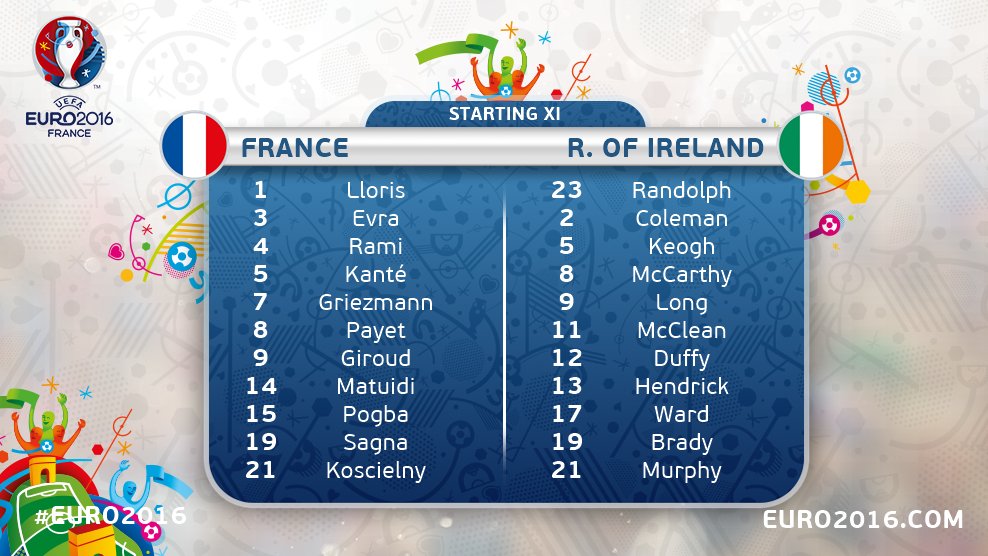 Another late thriller for Les Bleus!
Les Bleus likes to leave it late and I'm beginning to think that football is going to be the death of me. Maybe I should stop watching while at it before my heart literally stops. This is definitely going to be my very last Euro. I can't bear to see Les Bleus suffer before their pain turns to joy in the end. Prior to this game, talks of revenge were ripe in the air. Some never forgot that infamous Thierry Henry handball from 2009. But this is not 2009. This is 2016 and this team does not have a Henry.
As soon as the whistle blew to get the game underway, this happened…
… resulting in a penalty. Boy, was I mad at Pogba for that challenge in the box! Of course, Brady slotted home that penalty giving the Irish something to believe in until halftime. 
In the 3rd minute, a Payet corner came to nothing, then a Payet free kick let us down (yes, we're super spoiled…well, I am since I backed Payet to shine before the tournament when everyone else was doubting his capabilities), then we witnessed a brilliant run by Pogba who had a good left foot delivery into the box which Griezmann heads over. In the 15th minute, Lloris rushes off his line to fist a threatening ball away. Five minutes later, he is called into action again. 
Kanté got yellow-carded in the 26th minute and he misses the quarters against England/Iceland.
Lloris produces another fine save in the 36th minute and Adil Rami picked up a yellow in the 43rd minute. He also misses the quarter-final action next week and I hope Umtiti gets a chance to shine. Four minutes were added on, but we left the field dejected at the end of the first half.
In the second half, we saw a different France. Here was a France determined to do whatever it took to win. Here was a France who was all 'Oh, no, homeboy, you're on our turf and you're going down!' Whatever Deschamps said at halftime surely did the trick. Coman was subbed on for the yellow-carded Kanté and his speed turned the game around. 
Sagna crossed from the right and Griezmann planted a firm header at the back of Randolph's net for the stinging equalizer in the 58th minute. Three minutes later, Olivier Giroud draws two defenders away from the action, then heads a perfect ball into the path of an onrushing Griezmann who made it 2-1. 
YEAH! PURE JOY!
Griezmann was on the path to a hat-trick but was stopped by Duffy, who was red-carded for the challenge.
Eventually, Giroud (actually got a standing O today!) made way for Gignac, who immediately went to work. Had it not been for his wayward shots, he could've had a hat-trick. Props to the Irish though. They were down to only ten men and still played as if they had eleven. And props to Captain Record Breaker. Had it not been for some of Lloris' fine saves in the first half, we mightn't have been here feeling somewhat relieved after a gut-wrenching game.
How is this for class huh?
The French fans also passed the Irish flag around the stadium. Thank you, Irish fans for lighting up the Euros! You'll be sorely missed.