Paris Saint-Germain is currently competing in the ICC  (International Champions Cup).
Last evening, PSG humbled Real Madrid 3-1 with goals coming from debutant Thomas Meunier (2) and Jonathan Ikone (1). The Parisians are on a roll this pre-season having already won two friendlies against West Brom and Inter Milan. However, all eyes were on Edinson Cavani's man bun.
Have you never seen Edi with a man bun before?
Edi sent the Twitterverse wild with this look:
Some thought he looked great, one thought he looked like a Latin lady with his hair up (to be fair, Edi has always been slender, lean, beautiful, and easy on the eyes 😛 ), and I'm sitting there thinking: have they never seen Edi with a man bun before? I mean…
Whether his hair is worn up, down, in a bun, wild, whatever, I have no problem with it because he has healthy shiny perfect hair and he is allowed to do what he wants with it… except cut it or dye it. 
Cavani is the proud owner of the sexiest hair in football.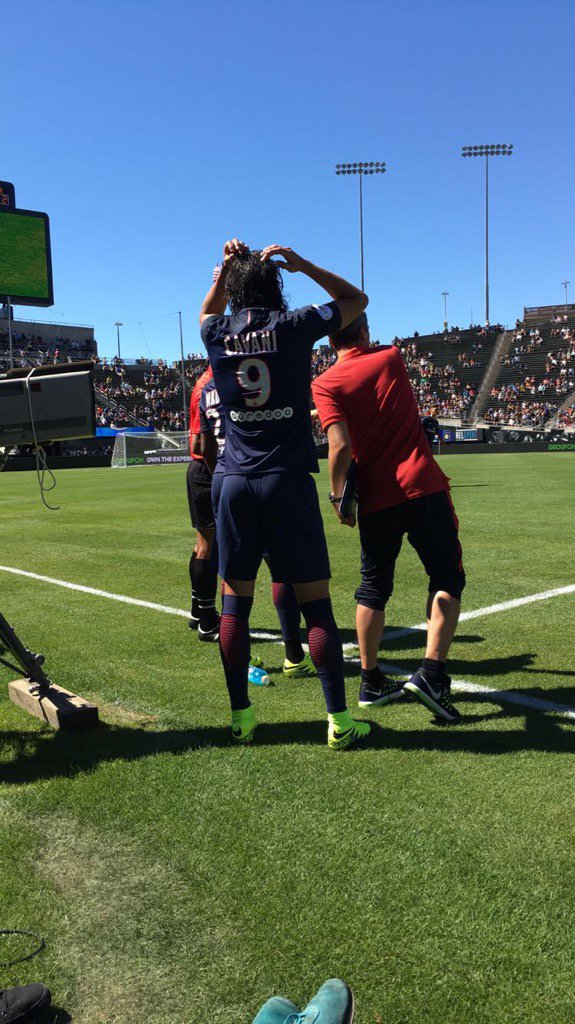 Cavani had a bit of a frustrating evening, though. The ball just wouldn't go in for him. At one point he managed to find the back of the net only to be ruled offside. Twitterverse went wild again for all the wrong reasons. As a fan of Edi's, I admit I do get mad at him for missing easy sitting chances, but I won't worry about him this season. I think Cavani is going to do just fine. If not, then feel free to drag me at the end of the season. For now…
Just had to make this post about Cavani. No apologies. It's been a long time!
Watch the highlights from the match here: