I like Neymar. Always liked him from his Santos days as an upcoming phenomenon and at FC Barcelona he is going to get even better and he knows it. I wish to see him retire in the Blaugrana  colors.
At a presser today:
"With Brazil, I used to apply pressure, but with Barça we do that every day in training. So now I've developed and can help more."
"At Barcelona, I have freedom to dribble and shoot, but there's a tactical discipline of course. I'll keep improving there."
"I'm still the same player as before. My move to Barça didn't change me nor my stile to play. I just improved in making pressure."
The Brazilian coach asked Ney to apply that pressure in training so he can help the team.
"I don't feel any difference in marking between Spanish league and Brazil. Both opponents foul the same way. I'm totally adapted."
"At Barça, I train every day with players like Xavi, Messi and Iniesta. They have won many things, so you always improve with them."
"Messi is one of my idols, and even more now I also know him as a person, being around him every day. He's like a mirror for me."
Just when yer thought things are not going to get Messi! Like a mirror friend? I'm just waiting for Ney to randomly burst out his love for Leo in an awkward song. >.< I wonder if the WAGs are jealous yet? They're getting so close.
And I thought Leo fan girls were … forget what I thought about them.
"I'm learning a lot from Messi. He's a fantastic person. He jokes around with all the players."
Awww! ❤
I wonder if Leo misses him? Hmmmm …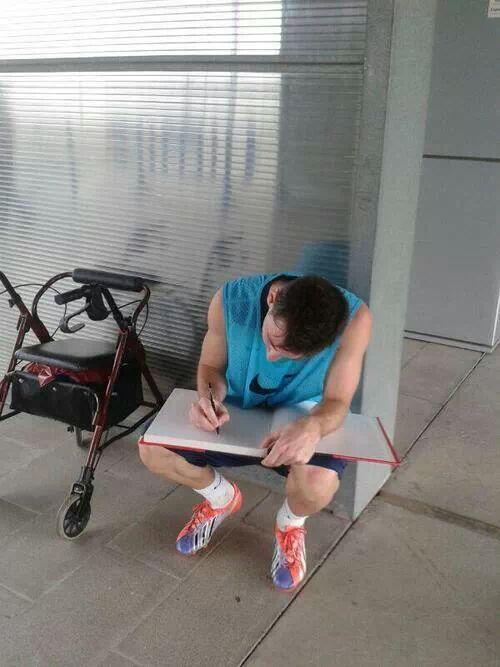 'Dear Diary, Neymar can't stop talking about us. I don't like that he's talking about our relationship that way because Anto is not pretty when she's jealous.'
Apart from all the love going on, it was learned today that Neymar could have been a Real Madrid player. *Gasps* Impossible you say. Possible I say. Ney reportedly trained with Real at the age of 14, but when he was offered to them for €60,000 but they refused to pay. They must have thought that it was too expensive back then. Anyway, I'm just happy he's not the Messi of Real Madrid but the Neymar of FC Barcelona.